The jumble Puzzle game is an online game that has some word puzzles in it. In this game, you need to unjumble some scramble words. A timer is also there that records how much time you take to solve a scrambled word. It awards you points according to the time you take to solve these jumble words. For that purpose, you need Daily Jumble Answers for 01/11/21 to have today's solution.
Jumble Answers for today 01/11/21:-
As you may know that this game updates with daily new Scramble words. So with every new puzzle fans need quick answers to earn healthy points. Some of them can solve this on their own but others found this very hard sometimes. They need someone to help them. So that they can also enjoy the win.
Therefore, We're here helping those fans with Jumble Answers for almost every new update. You can check Daily Jumble Answer below with all the Jumble Words. You can also share these Jumble solutions with your friends.
VAWEE = WEAVE
GEHED = HEDGE
CCNILI = CLINIC
NTCREH = TRENCH
Today's Cartoon Jumble Answer:
This Jumbled Words game has a second and the most difficult part that you can call the Cartoon Jumble. In this part, you have to create the lengthy scrambled word by yourself with the help of some clues that are given to you in the game.
Moreover, people find this part very hard to solve. As in this part has sometimes lengthy Jumbled words to solve. For helping the fans we are here giving today's Cartoon Jumble Answers with its scramble word.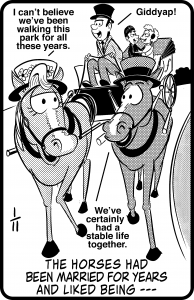 THE HORSES HAD BEEN MARRIED FOR YEARS AND LIKED BEING - - - 
EHDCITH = HITCHED
So this was from today's jumble solution and definitely the best possible Jumble Puzzle Answers for 01/11/21. We hope you enjoyed solving today's jumble with us. Do share your difficulties with us in the comment box.