Daily Jumble is a word puzzle game that many people love to play. This game features some jumbled words that a player needs to unscramble. Sometimes those scramble words are easy and can be solved in a few seconds. That's why here we're providing Jumble Answers for 03/28/21. But many of the times these puzzle words create worries for the players. For that purpose, fans like those who need to see the  word today's jumble solution.
Today's Jumble Answers for 03/28/21:-
While solving the Daily Jumble Puzzle the timer counts about how much time you take to unscramble daily jumble. Definitely, it awards you the points according to the time you take to solve them. The faster you unscramble Jumble Words the higher your record will be. So in this regard, when people get stuck at some difficult Word Puzzles they lose points in the game. That time they need a quick Jumble Solution for their win. We and our team are always ready to help out the Jumble fans in this regard so that they can win easily. You can find today's jumble answers for 03/28/21 with the daily jumble answer that is given below.
TETDCE = DETECT
CFILEK = FICKLE
LATCET = CATTLE
RECAOS  = COARSE
YFNMIA = INFAMY
GHUATT = TAUGHT
[Total_Soft_Poll id="38″]
---
Cartoon Word Jumble Answer for Today:
This Daily Jumble game has another interesting part that is about Cartoon Jumble. Now you may be thinking that what is actually that makes this part so much interesting. That is creating this Jumble Word Puzzle by yourself and unscrambling. You can do this with the help of circled clues.
Moreover, if you found it hard like creating it or solving the Cartoon Jumble, then don't worry Jumble fans. We're here with the best possible Jumble Answers that you need to win the game.
You can check below both the cartoon word puzzle and the Jumble Solution.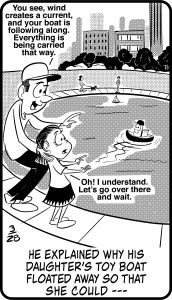 HE EXPLAINED WHY HIS DAUGHTER'S TOY BOAT FLOATED AWAY SO THAT SHE COULD – – – –
DTFITTEOREIFTGH = GET THE DRIFT OF IT
So this is it from Jumble Answers for 03/28/21. I hope you liked our Solution to the Daily Jumble. You can share the difficulties you faced while solving by yourself. Don't forget to share with your friends. Moreover, you can find the last three days' jumble answers through the links given below.
---
Previous Jumble Puzzle Answers