Daily Jumble is a puzzle game that many people love to play every day. These types of word games can benefit you in improving your vocabulary skills. As you learn new types of words daily. Here we are going to talk about Daily Jumble Solution for today. Many of the people feel stuck while playing the game when they can't find the Jumble Sunday Answers for today 01/31/21. You can find it here and win some quick points.
Today's Jumble Sunday Answers 01/31/21:-
While playing the game for today's Jumble there will be some new types of word puzzles that maybe you have never seen before. In that case you need Jumble Answers for solving the puzzles quickly so that the points cannot be missed. You can find today's Jumble Puzzle Answers for 01/31/21 below and don't forget to share with your loved ones so that they can also enjoy the winning moments with you.
GOEAVY = VOYAGE
NWENIR = WINNER
XTOIEC = EXOTIC
BLAIEV = VIABLE
GLRUAF = FRUGAL
SELYIA = EASILY

Today's Cartoon Jumble Answer:
When players of the daily jumble game finish solving the first part of the puzzle then they need to make a next-level word puzzle with the help of circled clues. This part of the puzzle is called cartoon Jumble. We have provided you the daily cartoon jumble puzzle with their solution below.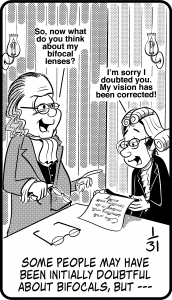 SOME PEOPLE MAY HAVE BEEN INITIALLY DOUBTFUL ABOUT BIFOCALS, BUT – – – 
VGENNEIIBEGLESI = SEEING BELIEVING
So In the end we hope you enjoyed solving today's jumble puzzle. You can share your thoughts or ask any question regarding any word puzzles. We always feel proud to help you.