A word game that comes with a daily new scramble word puzzle is called Daily Jumble. Many people love to play it every day. The thing that makes this game very much interesting is new word jumble puzzles everyday. Because they learn new words that improve their vocabulary. For this reason, if you are playing jumble today and have some issues in solving some difficult word jumble then you must see Jumble Answers for Today 02/03/21 given below.
Jumble Answers Today for 02/03/21:-
During the gameplay, most people feel stuck when they see some new word puzzles. That makes them lose their points and even game sometimes. Therefore, they need someone who can help them in solving word jumbles so that they can earn good points in the game. We have given all today's jumble answers for 02/03/21 here below. You can share with friends and loved ones.
SABHR = BRASH
LOFDO = FLOOD
SWERHD = SHREWD
PANEPH = HAPPEN
Cartoon Jumble Answer for Today 02/03/21:
In this word jumble game, there is a difficult level that most people call Cartoon Jumble. It is difficult because it has the longest scramble word jumble that creates worries for many fans out there. But we have cleared this difficult situation for all the jumble fans out there. We have given you the longest word puzzle created with the help of circled clues, and the Jumble Puzzle Solution for today here.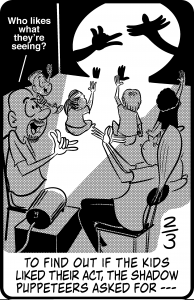 TO FIND OUT IF THE KIDS LIKE THEIR ACT, THE SHADOW PUPPETEERS ASKED FOR – – – –
ASHFOOSWDHAN = A SHOW OF HANDS
So finally it's the end of today's jumble solution. We hope you enjoyed solving today's Jumble and won better points than your friend with the help of Jumble Answers given here. Don't forget to share your thoughts about any word puzzle you like.